All About: Quezon City

OVERVIEW

Quezon City is the largest city of Metro Manila's cities in population and land area. Over 2.17 million now live here, most of them young. About one-third or 32% of our population is less than 15 years old. Our youthful population has given us a labor pool of 997,000 people, a human resource asset that can empower definitely much more than the 55,000 establishments located in the city at present.

We found that, despite the diversity in ages, incomes and lifestyles, a common yearning runs through everyone in Quezon City - that is, for a Quality Community where people can live, work and do business in a hospitable, progressive and peaceful environment.


Quick Facts about Quezon City


People
Quezon City has a population of 2,173,831 people, the largest in Metro Manila. The population is spread over four districts and 142 barangays. District II is the most densely populated area.

Population by Districts:
Population Distribution by District:
District I 382,167
District II 942,074
District III 267,568
District IV 397,610


Average annual population growth rate (1995 - 2000) is 1.92%. By the year 2005, it is estimated that 2,390,688 people would be living in Quezon City.

Other population statistics:

* Majority female at 52%, male at 48%
* Marital Status: 48% single, 47% married
* Generally young population with average age of 24 years old
* Population of working age (15 years old and older) is 1,486,000 or 67% of total population
* Density - 135 persons/hectare
* People of Quezon City are of mixed regional origin as they are mostly migrants from different parts of the country
* Predominant Religion : Roman Catholic (99%)

Economy

Business in the city is dominated by small and medium-scale establishments engaged mostly in the distribution of finished products and the provision of basic personal services. With a sizeable portion of the city's land area being developed for commercial and industrial ventures, complemented by the availability of a large manpower pool, Quezon City has great potential to support an increase in the number of big businesses in the city.

Business statistics:

* No. of business establishments (2001): 55,759
* Distribution of business establishments, by industry:
o Wholesale and retail trade: 47%
o Manufacturers: 12%
o Hotels and restaurants: 13%
o Real estate, leasing & various business services: 8%
o Community, social and other personal services: 6%
o Others: 14%

Location, Land Area and Natural Features

Quezon City is at the northeastern portion of Metro Manila. It has a land area of 16,112.12 hectares, almost one-fourth of the National Capital Region (NCR) and is the biggest among NCR's 12 cities and 5 municipalities. Situated on the Guadalupe Plateau, the city's topography is largely rolling with alternating ridges and lowlands. The southern region of the city has low-grade terrain while the northern half is undulating, culminating at the Novaliches Reservoir. Served by a network of rivers and creeks, the city is efficiently drained except for some portions which experience flash floods due to the deterioration of waterways.

The City shares an aquifer system with Metro Manila which, due to overdrawing, has been subjected to saltwater intrusion. Another feature which it shares with the rest of the region is the Valley (Marikina) Fault System traversing the city's eastern portion.

Take the M.R.T. to go to MRT:

Leave your car home, avoid the heavy traffic plus drink all you can! From the Makati area, you're just 19 minutes away from the MRT Triangle

From the Taft, Magallanes or Ayala (Makati) M.R.T. Stations, go down at the GMA-Kamuning Station, which is just a few minutes' walk away from the MRT Triangle.

Fare (One-Way): 14 Pesos

Last trip back to Makati: 9:50 PM.

Present Trends and Emerging Patterns

Land Use

The City is predominantly residential, with residential areas comprising 45.45% of its land area. But it has retained its institutional character with the presence of the Philippine Congress, other national agencies, academic and specialized medical institutions. The City also has a large, open space system with the Ninoy Aquino Parks and Wildlife,

Quezon Memorial Circle and UP Arboretum as the core, while the Novaliches Watershed provides additional greenery. Commercial growth is mainly sited along major thoroughfares. Industrial development, meanwhile is relatively contained in the traditional industrial areas at Balintawak, Novaliches, and Ugong Norte.

Transport and utilities

The city is traversed by several major metropolitan thoroughfares, namely C-3 (Araneta Avenue), C-4 (EDSA), C-5 (Katipunan - Luzon - Republic Avenue), R-6 (Aurora Blvd.), R-7 (Quezon Avenue - Commonwealth Avenue) and R-8 (Bonifacio Avenue - Quirino Highway), which link the city to the rest of Metro Manila. These thoroughfares are supplemented by main and secondary intra-city roads for area-wide mobility and by numerous tertiary roads that provide access to minor communities and individual properties.

Construction and completion of major transport and infrastructure projects is expected to trigger further development in the city. When completed, the projects will increase the flow of people and commerce throughout the city. Ongoing projects include:

Additional LRT lines:


* LRT Line 2 - fully elevated track utilizing Aurora Blvd. alignment, from C.M. Recto to Katipunan Ave.; has a length of 11.76 kms;
* LRT Line 3 - also known as EDSA MRT; its extension from North Ave. main terminal to Monumento (Caloocan) is about to commence.
* LRT Line 4 - from Quezon Avenue Mabuhay Rotonda to Quirino Ave., using alignments of Quezon Ave., Commonwealth Ave. and Regalado Ave.; length is 18.35 kms;

Circumferential roads:

* Circumferential Road-4 (C-4). Planned improvements along EDSA include the construction of West / North Ave. Interchange and Roosevelt Ave. Interchange.
* Circumferential Road-5 (C-5). An alternative to EDSA utilizing the Katipunan Ave.

*Luzon Ave., and Republic Aveenue route, will be undertaken through a build-operate-transfer scheme.

Local and other national road projects:

*Mindanao Avenue- extension from Quirino Highway to Gen. Luis Ave. in Valenzuela.
* Improvement of Congressional Avenue - extension from Visayas Ave. to Luzon Ave.
* Inter-neighborhood Roads - construction of connecting segments of identified community roads to serve as alternate routes to decongest major roads.

Water Supply

Like the rest of Metro Manila, Quezon City gets its water supply from MWSS and its private distribution concessionaires, the Maynilad Water Service Inc. (MWSI), serving the west half of the city and Manila Water Co.(MWC) the east portion

Power Supply
The electric power requirement of the city is adequately serviced by the Manila Electric Company or MERALCO. More than 97% of the city's population have access to electricity. It should, however, be noted that there are still areas unserved by MERALCO such as in most parts of Payatas mainly due to right-of-way and land tenure problems.

Solid Waste Collection and Disposal
The city's Environment Protection and Waste Management Department (EPWMD) reported that in year 2000, the average daily collection volume of garbage was 1,500 tons, that reflects per capita waste generation rate of 0.69 kg. per day. Garbage collected is disposed of at the open dumpsite located in area I of Barangay Payatas.

The city government is developing alternative disposal modes that are environment-friendly, through a Materials Recovery Facility (MRF).

Services and Facilities

Type of establishments & Number:
Public schools: 138
Elementary: 96
Secondary: 42
Private schools: 283
Public daycare centers: 190
Public hospitals: 18
Health centers: 54
Police force: 2,462
Fire fighting force: 434
Media centers:
Television networks: 6 major networks
Radio stations: 10
Print media offices: 5
National government offices: 125
Government-owned & controlled corporations: 25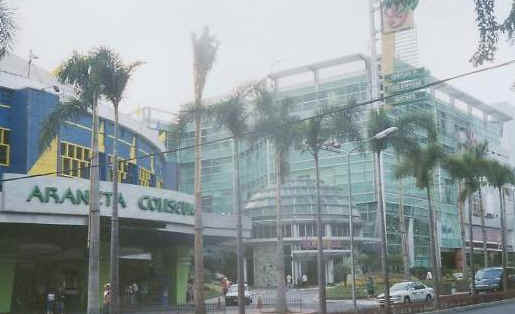 Gateway Mall & Araneta Coliseum
Cubao, Quezon City
Tourist Belt
Quezon City has its own tourist belt, found in the once quiet district of Tomas Morató, Roces and Timog Avenues plus a portion of Quezon Avenue which are now dotted with luxurious and exquisite restaurants, disco houses, night clubs, sauna clinics and other shops.
University of the Philippines (U.P.)
On 12 February 1949, a motorcade made its way from Padre Faura (Manila) all the way to a cogon-strewn expanse in Quezon City. At its head, borne on an open vehicle, was the "Oblation", the bronzed symbol of the University of the Philippines, on its way to its new home. This ceremony marked the university's transfer from its original site in Manila (c. 1908) to its 493-acre campus in Diliman, which would have more room for the University's expansion as it fulfilled its role as educator to the nation.
Fifty two years later, the main campus of the most prestigious university in the Philippines is home to diverse colleges, offering 94 graduate and undergraduate courses as well as several centers of research, many of which have been declared by the Commission on Higher Education as National Centers of Excellence.