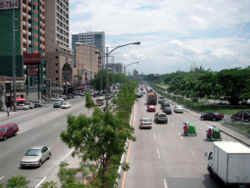 Quezon City has its own tourist belt, found in the once quiet district of Tomas Morató, Roces and Timog Avenues plus a portion of Quezon Avenue which are now dotted with exquisite restaurants, disco houses, night clubs, sauna clinics and other shops.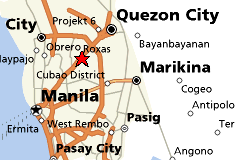 Download our Free MRT ToolBar: Click below!
Leave your car home and take the M.R.T. to go to MRT
Fare (One-Way): 14 Pesos
From Ayala Station, it takes the M.R.T. exactly 19 minutes to reach GMA-Kamuning Station, where you should go down because the MRT Triangle is just a 5 minute walk from it.
Itinerary: Taft
Magallanes
Ayala
Buendia
Guadalupe
Boni
Shaw
Ortigas
Santolan
Cubao
Kamuning
Quezon Ave
North Ave (End of Line)
Last Trip: 9:50 PM
The MRT Triangle: The Morató-Roces-Timog Triangle
The Morató-Roces-Timog avenues (MRT) Traingle is a popular entertainment area in Quezon City, Metro-Manila (Philippines). Located along Tomas Morató, Alejandro Roces & Timog avenues are many fine-dining restaurants and bars. Discotheques, karaoke joints and comedy bars provide patrons with all-night long recreation.
History of Quezon City
Quezon City (Lungsod Quezon in Filipino) is the former capital and the most populous city in the Philippines. Located on the island of Luzon, Quezon City (popularly called "QC") is one of the cities & municipalities that comprise Metro Manila. Read more in its history!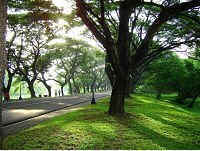 Campus of the University of the Philippines